Welcome to MaineLights.org



Video Recorded on 12/31/2016



2017 Christmas Light Schedule:
Friday, December 1st thru Sunday, December 31st
7:00pm to 10:00pm ANIMATED DISPLAY (earlier/later on Fri-Sat-Sun)
(All times are approximate and weather/traffic permitting of course.)


---
UPDATE: Friday 01/06/2017


Final video from the 2016 display has been posted above. God willing, see you in November...
---
UPDATE: Saturday 12/31/2016


Wow, the last day of 2016! Happy New Year!




And this is also the last day to catch the lights for the season. They will run from 5:30pm until one minute into 2017.




Recorded a quick video from last night during the snow and freezing rain. Not the best, but finally got the spiral tree farm into frame. Click on the video above to check it out!
---
UPDATE: Tuesday 12/20/2016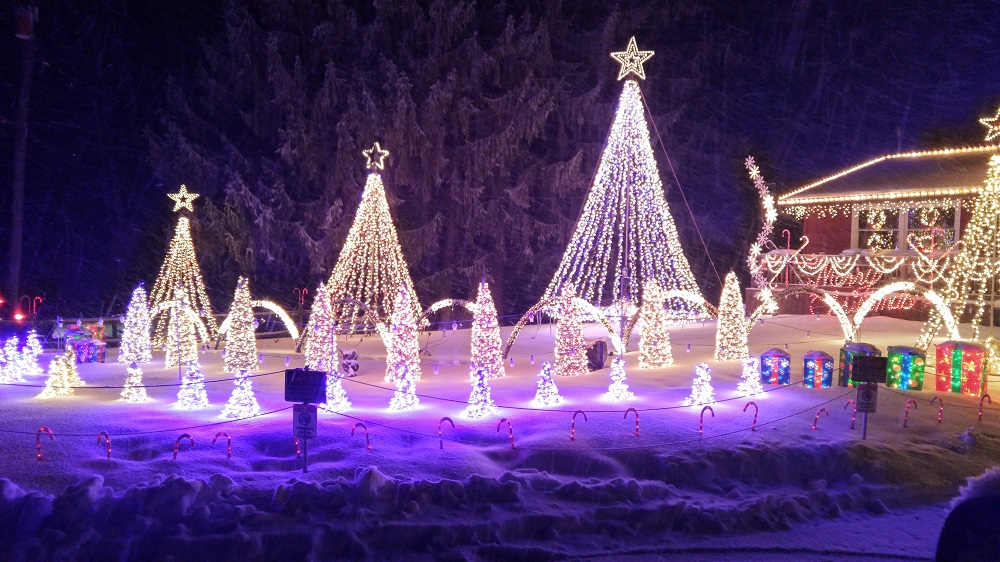 Lights are going pretty well so far this year. The added pixel display and blue LEDs seem like they are a hit!
The recent rain then hard freeze(around 5F) has taken out a few strands but overall everything is still working pretty good. Traffic has been sporadic but it's been getting pretty busy the past few nights. If too many people "park" on the road or if someone is "parked" in a really bad place we will turn the lights off for a few minutes just to clear things up.
To stay current, be sure to follow our Facebooks page for up to the minute rantings and ravings.
---
UPDATE: Sunday 12/04/2016


Switched to Youtube for the *LIVE FEED* this year. Will be streaming while the lights are on. Take a look...




http://www.youtube.com/user/adventurevision/live



---
UPDATE: Wednesday 11/30/2016


Lights should be on tomorrow night(the official first night) as long as the weather cooperates. Be sure to keep up with us on the Facebooks for timely updates.



---
UPDATE: Friday 11/13/2016


Had a good weekend out in the yard with Ms. Sophie.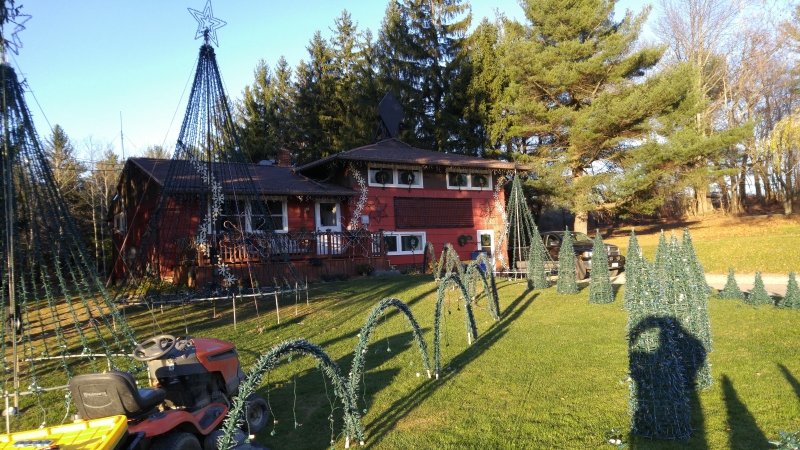 Seems like things are on target for a December 1st start. Keep those fingers crossed!


IMPORTANT INFORMATION!


If you plan to stop by to enjoy the lights we ask that you remember East Maine Road can be a very busy road at times and completely dead at others. The suggested speed limit is 35MPH over the crest of the hill(thanks Judge!

) but people do not seem to follow that suggestion. Feel free to pull into our driveway to enjoy the lights! Two cars can pull in side-by-side and if you go far enough another two can pull in behind you.
PLEASE TAKE NOTE: We can not have people parked in the road... If this happens the lights will have to be turned off. Unfortunately some people travel well over the cautionary speed limit of 35MPH so... DO NOT STOP IN THE ROAD!!! PLEASE PULL INTO OUR DRIVEWAY and if there is not room consider stopping by later. If you have tried a few times and just can't get in, send us an email and we'll make arrangements.

One more note about the road, if you are pulling over to let someone pass, be careful of the ditch... once we get snow up here the ditches will magically disappear underneath the plowed snow. Only problem is they haven't really dissappeared and you'll be needing a tow.


DISPLAY INFORMATION


The display is located at 1245 East Maine Rd in the Town of Maine(in NY).
We have always enjoyed decorating the house for Christmas and in 2007 we had a display with about 4,000 Christmas lights and 13 inflatable.
2008 was the first year that we had the display synchronized to music broadcast on 94.9 FM radio via a low-powered FM transmitter. There were around 45,000 computer controlled lights with Silver, Gold, and Red being the primary colors. In all, we could control 176 individual channels of lighting. The inspiration for the 2008 display was Richard Holdman of Utah. Our whole family has enjoyed his display for the past three years and our display tries to capture his style of synchronized lighting(and boy does he have style!).

Some items of interest in 2008 were a 21 foot Mega-Tree with 4,800 lights, four 10 foot animated arches with 1,700 dancing lights each, and a 12 foot tree with 4,800 lights.
In 2009, we kept everything from 2008 and added another 10,000 - 15,000 lights and 80 more lighting channels. We also added two snowflake trails on the house, four "jumping" arches in the yard, and doubled the lights on the two smaller 10' trees.
The display in 2010 was very similar to 2009. The 21' mega-tree was upgraded from 4,800 lights to 9,600 lights as well as some other upgrades. The blowups also made a comeback and they were a huge hit.
In 2011 we reduced the amount of lights to ~50,000 and we also reduced the time the display is on. The past year was a bit much for us and instead of taking the year off, we decided to try for a little less "show".
In 2012 and 2013 we were back to around 75,000 lights and put up the blowups a couple weeks before Christmas. The display hours were reduced to 7pm to 10:00pm weekdays and 6:30pm to 11:00pm on the weekends.